---
Red Cloud Overall MFG Co.
Red Cloud Overall MFG Co. is a renowned clothing brand from Shenyang City (Northern China). Reputable for their selvedge denim, high quality fabrics used and produced in their own manufacturing facilities. They are widely acclaimed for their exquisite craftsmanship and outstanding quality with very good reviews since 2008 establishment.
This webstore is the international division of their official online store in China (Shop 0736). Aim is to fulfill international purchases and customer service outside China.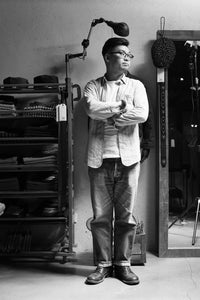 The soul behind Red Cloud Overall MFG Co.
Raymon Ren, the owner of Red Cloud Overall MFG Co. founded the brand in 2008. With background as a graphic artist/painter, he began his passion for collecting old, vintage sewing machines and fabrics.
His passion eventually developed into him producing high quality clothing line under Red Cloud's name.